□ Advertisement
in preparation.
■ Faucet Apply
The reward will change to depend on degree that you see the advertisement and frequency.
Please insert the receive address and the hash value in the form below, and check on "reCAPTCHA", then click "Faucet!".
Note: Nonce(hash value) changes every 30 minutes. And, you can only receive the reward once with the same Nonce.
○ Current Reward: 0.0001 SORA - 0.1 SORA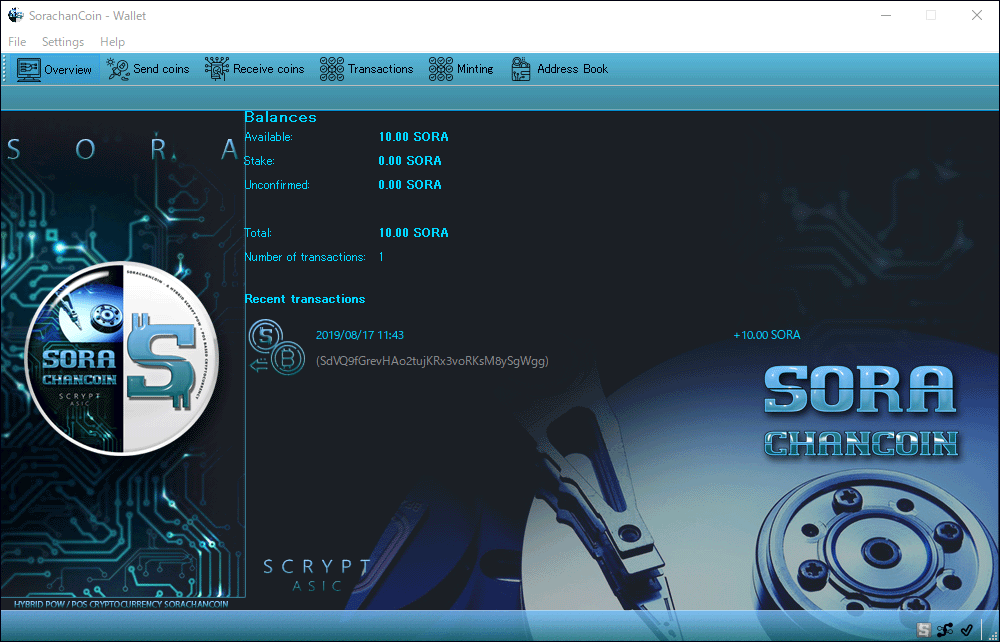 ◆ HASH Value
○ Nonce [current: 0]
df7a39e902b4208b5b8cad2df5e732ee5893a8400b6ec47bdcf5306a740e1860e0c8f7ae4a51ffc90f7a7e058beeda916e33a88cc3f83105d699436a190317399203e15164f52be486f6ee687394c6276ca8acdae5574a8a2a84548e4674da8b8352f621398164f243204c923f584953f52fea51920b10ef7f498c1ffd45b23dcac04521045005304c810c1104ef271c8808be689523df94722c0c2dc356af93188eaa2249c33d4b96276938f16843b45af98f41d6a290b56e41a447a93e9c5ba8e22f8d68ed8dc08cbf8edd3877d91f67097a0f5d65bc106caf0e001580b7268297570ca60979c493c592e22c5ab4b3181c4174344074e4f448ad3cfb128ebd2c4cda18c22c396e52259e98daef08afb2ecbd3359545803b3293532f30bdc855d6938ed2780bd856d00008c8f97511ca41ffebe3f5f5b5298a0bbbc4940fb0bea838216f6e457e39f749eabff1ae5a28ea3b8cab2257c97f0277f3b0e9ad791d0416524fb2d532c03df007d02729cfb2a89ee64ca4498fb466cbfd742de19ee4d0476884d0e6654fc508e3f9859b99d57e1ab34534599cc07513fd1baae2beffdcb1c6fc75def2dceffc5c065e0173d73150aa63b2aabb4f1233c9b938205855f74f199057b36bd4ff848753ef474d75ba51009b725b9c89ec7ed80056ecd2689fdf6dd0b7d9a6ee4d4d3a06faa7a051bd27d49181b7aa3313e442578f7e454d9196a91b8faa1e7120eb6f899457975bd94ffd7c345556beef09ee49e49df92fd51e875cfe450a290a98ce82a00ef59db4d7a84628496aa3add3cdcbdb07b1acedb7a400dfdf696839152449a48ab8b4515c19b6424407a57dfca9e0dbd14903bb96470639a5a7505f18b572f1f0854006f7e1e1a1ec0c079500bca9c0bd696d76b8ac486b4871463625921e82de3f41b9d55f4a0dbb4bb4af30358389dde8163c5e22fbe05349a9a9f46552e8ac8d92fda1bc9face405551045de01c935b1f3138ee0888aa322306d03457c73f9f546f461e30c7b99871851021f1ebdb9824bb275acc83e7a4c877ccabeec2ee32d7687367b2c6b8cfc806777122e2641711b7e2d83c729dff7eee95b13cc50f9d898e2e29aaea362c00ddbf1338dab366bf343b2c8e9d5772cfb0e69a0bc6ffb01de59ef13f9e8965a192219543d15f6d983caf15237f26d79476c8f25ac15021f2fe9772f7a08eda82e00d65769074c2212be484317aa64ccfb754eba26f06a70050dc651f10f8c503b86208c169f639f644a73ca1775135e0c5d0f0906791eaca118915ffb46f06aa6e156f5d06b89dbb7f2ea5739617410de158d1f681f843c502778358e6350d652e3db0b65c067c7cd25dda462357e5cbf0aac0c542e841193cd211da407923e84ed7556352b105ec9dabe7eacba1f95f6ba33e058da8bd783c938a38dfc639f78440575c0dce399407eb50fa18a0a7ac5b8ce40a22b706cea4939303f8c316cd7463e8df9da7647df153c3b4defb258f8920be53528d4fe08dd2a2c22d88472d16af34e25cbf789e592f33a874512f5ed4a9e8fb7b8505674934acd80c3d2cfcf20806aa91983defd558a0472360511b56f80b862f41da0cda2189232cc633c2eff272c9d2895faf169253fa6ff4e04b39d244b9edc048a10c1e5dbf4bd40e871beb2778ffbc209773fd15481345b55f82a5091e686dedd8e710b5831e5843ed2809c1ec898422f45fbd89313772f1a2c36616e261300565094e1c7569bd67fb1d5e60e46a3539c49988057fa5079c98eb1b742da5421355db4c442e350e7a68d9d1d4966e5777c10ef314779b69d098341fc16bd411a6b595d4c54b2a1b959e1a974d44aa53657a96a28adaf21184cbd7ff82906046af1a3b0bc5192ecf66f1a46fab56b30c20d957c8c3685e5168ee24f0eb4ef4af44f458f63f31ea4668b1da247b40cdef3c38e20f44145d848840463e9dfa7ed1336920a2c7932546987d900e1baf50dae9bf51ae3c834c482124f7e1d35eac7a1f0adee6ab78c6ff4cf833a7c2d3fb00b823cf89ea45f1219d28db613940586b6477222ed4b357913384257aabb4c5de13eaeffe51259c07496573554ee6a12bbefdfe0b391de81148b325cf58a2740630eb3cb28e07387d717e96eabac1587670b5d92c2688b66fb65267b302b9bb03b970128ec294077b32f19ca93354bf6275b7c2899e033e41485d92b0989d1c9e97aad1595ee6901b3fe55dae3dbffb14e9e9e60fddd92d1de84499281134a6b40e8558b511b64cdc1d065ec6695dafdcecefaba146b16d17e465e73751cb33b1e181e2d97f910dd1e4c9ff2b5c7ba2d40998d7ffb8cc0fcb62b539c6ce43501c53bd97603163b630503d052a903f6be29813ebc6c220ac1c71a5f35bfd7f037c12226c5e5ed4ee0d4351de4213ec44ee18afb1081c85b013dd6286e684dc5097f442559bbda7ff2ea8490db2c03a5ce527700bebe0b0c9a80a7e93b78cd7f9cb0a6fc501cb72a2c16e7b3ddac53d5ccc5d02919b06648ca7161aabfd08b0035941a2340ee731c3590e91a0bb8c9f33282e7498619aa86d64b6e557b548f0bfe4df37ddd8f41720891fae9810c1132c67152b09e767a92d3c093d16f162f434605d84172c3abbfc8e9e754526c395c7af13a354749da3bdf7ebc313639f165602add865111c0d5a44e7de529756775a7ead0c3b75ff56a2563208b227cda33333db575ebb8bec84c36874179f2f1df1339611921e0050c975c9dc8c26a1d3f34dd114d7028fb24a1c0a4751c5ce117c734ea8adb8a6f46f2b0edd41ec939faf4deed7ef2315f5dac7ecc4650625cb25487e7396b4f96d3bc9cdc3a3d7965b1793d33b3f448452f213c6a0f5332dc37c9ab9b449b9f3e3b4db6b515f9f1a06f306aaa1d0013bd09c769a592e8e535f8bfbb9d33a649b0c33616288e0dca0f39fa237818786473dcd895341f4259bb860103e475f6f2cb620541d10175c7e8ca112433fd5a299aac33829b3e660fa0b019a102506cc1d91fdeb4d7ecdc060140afb2d5931c4e0a71f0d2fe2c6bab65396b5cc12872e31eb81f02eb19c62947ab12a190069b757be3dececf1267c93e054649e94e3bfe288b58076483c7f7ae767061f96374f0e7b05b6a53c952ec6c3a116564e412144c1f50e170a2215aeda93fcb9d47cf6ef87afd7a8e6d72435c683c0032e3977690689590d9515a61b7b0863e1cf8123fe1cfb0f35f78f43a1099bd5c2e1ff28646633693d8df67e899830227f5bc1c5910010c100e890ec868aad415ff7be41b5109544b70210d0250d9e172817211e8a852a31b0d457daaceb663b5253926e3abc503ac2be2fcfd0308cdc9ca6411cd19fff032b27f03d9e3df5c3c0956042bff86c18cf4d32cb2eaed39da5c7dd652943b9d31723873b7bef0aba4e5ee76129e90715e054269c53a236c235b8a5937b36c092f3dabab1ddc0503286c1e24c0caba98994acb41022c765e5c1db567d192c539ff21ef1055aedf778d874f75fb5a6d5a25bac900b9229996551a1f9df3dad0f77de3d05442849d397ec7f15989c486de767c875662d2a3790839b84517bb2309b0997fa16ba1ad73c30ce5af76f63d3a4b586e3eef268fb21432423443b49efad8802fbe269bda4c7f5aff35608427e6c79f9de1b6371b1833a6e2385ec046a160df1e7d542d93daecd8de1ef2ca36fc7bd5e8535d015666eb1bc581880f1a640566d8785b38bdf0628d5749f7f1acf483deed68b1d4b97d0817d8c546f3566798d0eedeab69776466e53b064506a7ce3436ba4ee511cdcc2ddbf74268fb018b274e003ad20d3701f786fa9a08eaabd6d61d52c50425e50068363fa1916fb99e875d5df8ee4c7a1a50fe27faf6ed26a8cd90b4da4e5dc36809067f5885c6c5d594abe7120b6205a0b88bdac0c57fc83a25be757bc877bcdc818e13bf620c75ba84a264f7bac873ac65b23c7d5088ef847084b79ad296d6bf520791e9edd203455fc7209490d9f8bad0e2076b34df5f16ff202bf3ba3b6d9c86a28a304294bec3d26c8088fb1274b0a4eec8cd378252cfdd973e972f679912f27484f0c7fb93b810d3a8d515b86d30d4057219400a7d44c01c087a5beff02622f7c39aba4f2c8bc05d8a05918a508116a6d4b086e4e163219b6bfbb3b628c08d59a4b831e700599f7c5badc2a3c60831b6903b85fe9794a3cffa3be02da2a95bdc49f2ad90843501fd8faf9e7d55adb9e80aebb1204a6ab41d30d9a2667e422236067f82bc7efb78738233a7581620f4069095eb666a1a596e6185fb257610eb5ed9da363b725e3793d32d8b2aad0aef1cde2c405846277b3becd544894e0f45aebee160351ed123e6d5751d0300da4a31f4daf7b32d30ba38512e11cc8792eaca24461486a2d0b4dcaed1dc5e2cd2c6a2297e3b40426b0c6787b278c36cf4b9eea9c9fff092aedb2579b5cfa06fcadb7d0263d63245f5a72ba41d2feab4d3253e9e380f1deb7ffcbc646284a222267064952db4de4de4709edd4f2eab58bb0abca66f79764503909df890de051ea62ad7f8ce49500239488b49fb0ea5d9510c3e9565dacdf2fe4616b74f167ae04525a7e2ccb6d5e8639f10735f8b7966a93f7cfc272086359016c15ed74dbc29c5cb91a5edbaad39e2c8e1bd5299dbbdbeb2f40e1e8fb2f5df88747146570a4876b9921abeba4d8245a3ab80df0734810393916a51d68b41ec21fc870e864b7cc1a1fc9f538ae7bac1842c06536ff0e4bdc34a25a9e9b6f5e1c711d880148bf42c3a91d9976a1a5e972d1352b300ed74b6ac71127386b28b7e3129c429e53f59443dbeb39094a01d9711cfde944c968821c4b2e9ebd18818a25468a88dd949c2ae8cd729364e75926c20108ce18123586714c83e0f6f8e8dba5febd80ec422d61a363defba5861db41e0eab6ddaf3dce68956981ff0cca761322c07498039dd1476ade9a622c51d1f372733407313af369acbb1ca2f14839b83e874c55392a24ff4e29d1d0484f1145c0552dfba4c8b78d48c0ae1c144a5c5727ae267ae8106a18e1430a397f3b5f88f67f95513124a0807f42cffe6ddcdda7ed6452e4bfef4ebc472a36ac001aec02dfdb9071adfb5c05b9141886c6066fe507a7f7b6515b7838d9840cde43451e5284be8e0bbd3b095b6eeab6b82b10df2aef6c88b0739e7e9d259e27abf119639afb26ea821f5dc018717b7b85fde42878ed8ef828875e4002c36d3dc16fb08d31c40da135b4aa335ab0ddb26ec79222ac5e283c8bd1012973d8d060609ab09037dcc4032b12a2393a6319dea78e42cc1aa25077112c435064727d249e70869aa148bfc40a59df3fe1de3b726c17c92dc689151407f36fce845a1d86c8d30ab1fe3c575dc0668b1ce59384f4ebd709376c774df8ae161479fbddb9a5f2606d07f002953a685c28913a74c0cf2316dbf105608e0e01a9111ea07286fc0ea68cbb7e796621e7b028d4a95e485f684178a444905e20a006c66243cbb08087f78021e67dd1cf3e4525e0ed8b8231ac3ccd3a5a5f4da55932768f80addaaf60a56d3e6d3bc170d957e16e55d3d5fdd28b2da205d211d0eb23f23ba5cf394e01ecedd816d7b04264d8d0c79a1a636fd685a987a75ccaff9b8d0cbb032c1725415dcb4ccdf6df48e57de1921d70df74d9d8b6bd034ae25fb24920f17ba7335929df42d96f52d880d7f3a73c7a9ac978d8db3b81382d49fd8824c8475127e88a2b87de9a82b4b1df8e385202f38f6107205e39a7a8990aa8bd793bce48a8ff6475cc620ec2113253eff4c3654369c9b